Holly Berry Christmas Wreath
This outdoor Christmas wreath is our most popular. Fresh, fragrant fraser fir boughs make up this wreath topped with a perfect hand tied 6 loop tan holly berries and leaves bow. These make great gifts for family, friends, clients, employees and bosses. A classic tradition, this fresh Christmas wreath with make your Christmas season special.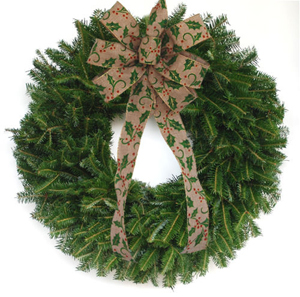 24" Fraser Fir Wreath
Prices include shipping
This wreath comes with a 6 loop hand tied wired tan, red and green holly berry and leaves bow with plenty of length on the tails (so you can cut to the length you want). The width of the ribbon is 2 1/2".
$33.95