Linen Gingham Mixed Christmas Wreath
This outdoor Christmas wreath is our most popular. Fresh, fragrant fraser fir, white pine and boxwood boughs make up this wreath topped with a perfect hand tied 6 loop tan, red and white bow. These make great gifts for family, friends, clients, employees and bosses. A classic tradition, this fresh Christmas wreath with make your Christmas season special.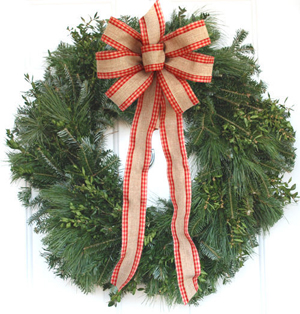 24" Fraser Fir Wreath
Prices include shipping
This wreath comes with a 6 loop hand tied tan, red and white bow with plenty of length on the tails (so you can cut to the length you want). The width of the ribbon is 2 1/2".
$36.95